NAB Show "How To Shoot Green Screen"
Presented by expert Alex Lindsay of DVGarage.com
Published Apr 12, 2010
[an error occurred while processing this directive]
Edit page New page Hide edit links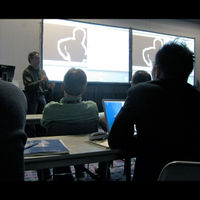 The NAB Show in Las Vegas has an uncanny ability to get its finger on the pulse of what's hot, and what's next. True, shooting "green screen" has been around for many years, but the ability to shoot better footage and pull cleaner alpha channels has never looked better than it does today. Todays session on Green Screen was packed. In my estimation, it is because of the new emerging market of corporate website online video.
There are many benefits to shooting green screen but the primary benefit is that the subject doesn't need to be in the same location as what the final scene will look like.
Alex Lindsay of DVGarage.com gave a class today at the 2010 NAB Show about how he shoots green screen. It's tricky, but here are a few tips.
There really are three main sections to think about when shooting an actor in front of a Green Screen. And again, the green screen in the background has the ability to be removed in your post production process to be replaced by other footage. It is our job as editors to "sell" an audience that the actor was in the scene in the first place. But the three components of good Green Screen are the Video Camera, the Green Screen Shoot, and the Capture and Editing of the Shoot.
Here are some tips...
-If you get the hair right, than the rest of the shot will look legitimate. If you miss the hair, it won't look right.
-Light meters on set are pretty much useless. What you really need is a good video scope program for your computer to "see" what the camera is seeing from a math standpoint."
-Always key in the biggest frame you can get. Turns out, many of the video cameras with SDI outputs actually output more information through the SDI than what is being recorded to tape. Try to use that video.
-Alex likes Composite Components Green Screen paint the best.
-Do not light the subject and the Green Screen at the same time. Light them independently.
-People should be about 10 feet away from the Green Screen itself, but never closer than 5 feet.
-56k tends to do a little better with green screen. light for that and shoot in that color range.
-light for a 5.6 f-stop. Light the foreground first, then the green screen.
Reporting for IndependentFilm.com, this is Corey Boutilier.
JVC 4K FOCUS FORUMS LAUNCH AT CINE GEAR EXPO IN JUNE
Additional Events at ProFusion 2011, DV Expo East, and Columbia College Chicago
May 26, 2011
BEN STILLER TO PRESENT ALL-STAR COMEDY ROUNDTABLE HOSTED BY SETH MEYERS, FEATURING AZIZ ANSARI AT 16TH ANNUAL NANTUCKET FILM FESTIVAL
Fest to fete special guests Vera Farmiga, Paul Haggis; Mike O'Malley joins Anne Meara as hosts of Late Night Storytelling
May 26, 2011