Cine Gear Expo 2005: Burbank, CA June 3rd and 4th
Where Hollywood's Professionals Meet
Published May 29, 2005
[an error occurred while processing this directive]
Edit page New page Hide edit links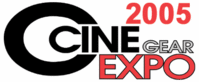 Exhibition & Seminars:
June 3, 2005 12:00 pm – 7:00 pm
June 4, 2005 10:00 am – 5:00 pm
Location: Warner Bros. Studios, Burbank, California
Details: www.cinegearexpo.com
Master Class Seminars: June 5, 2005 8:30 am – 5:30 pm
Locations: Kodak, Laser Pacific, and Mole Richardson in Hollywood
Online registration for Cine Gear Expo 2005 is open now!
Industry professionals, guilds, unions and association members register today.
Free on-line registration through May 27th.
For registration, event information, hotels, seminars, driving directions, parking,
security and shuttle details visit: www.cinegearexpo.com
Cine Gear Expo 2005 Highlights:
Cine Gear Expo provides the motion picture professional a focused, hands-on
experience with all the latest technology and services available in a professional
studio environment.
Exhibits featuring film, video, digital media equipment, cameras, lenses, cranes,
support equipment & services, dollies, mounts, motion control, crafts, props, sets,
film stocks, film commissions, lighting, generators, expendables, publications,
sound stages, studios, visual effects, computer hardware & software and post.
Premiere Seminars, June 3 – 4 at the Warner Bros. Studios Ranch, Bldg. 21
Premiere Seminars are FREE. Seating is limited on first come basis.
• American Society of Cinematographers Progress Report – The ASC Technology
Committee/Looking Forward to the Future – June 3rd, 1pm – 3pm
• The Anatomy of the Making of Successful Documentaries-
June 3rd, 4:30pm – 5:30pm
• Lighting Scenes for the ASC Book "Reflections: Twenty-One Cinematographers at
Work"-June 4th, 10am – 5:00 pm – Warner Bros. Studios Ranch – Booth 77
• The Art of the Commercial-From the perspectives of the talented members of
American Society of Cinematographers – June 4th, 10am – 12pm
• Defining the Workplace: International Cinematographers Guild Round Table
Discussion-June 4th, 12:30pm – 2:30pm
• The Digital Intermediate Revolution from the perspective of members of the ASC-
June 4th, 3pm-5pm

Master Class Seminars, June 5th in Hollywood
Visit website at www.cinegearexpo.com for registration form and details.
• The High End of Digital Image Capturing (Part One) 8:30am - 4:00pm, Location:
Mole Richardson Studio, (Part Two) 4:30pm-5:30pm, Location: Laser Pacific -
Fee: $95.00
• Digital Intermediate Workshop, 9am – 11am, Location: Laser Pacific –Fee: $40.00
• Practical Color Space, 11:30am-1:30pm, Location: Laser Pacific – Fee: $40.00
• From Pre-Visualization to Meta Data, 2pm-4pm, Location: Laser Pacific – Fee:
$40.00
• Visual Effects in the 3-D Environment and the Role of the Cinematographer, 9am-
11am, Location: Kodak – Fee: $40.00
• Building the bridge between technology and practical, creative filmmaking,
11:30am – 1:30pm, Location: Kodak – Fee: $40.00
• Apple, 2pm- 4pm, Location: Kodak – Fee: $40.00
• Digital Cinema Society Forum, 4:30pm-5:00pm, Location: Kodak -Free to Cine
Gear Expo Master Class attendees.
Networking lounge
Complimentary Refreshment Bar on Saturday
JVC 4K FOCUS FORUMS LAUNCH AT CINE GEAR EXPO IN JUNE
Additional Events at ProFusion 2011, DV Expo East, and Columbia College Chicago
May 26, 2011
BEN STILLER TO PRESENT ALL-STAR COMEDY ROUNDTABLE HOSTED BY SETH MEYERS, FEATURING AZIZ ANSARI AT 16TH ANNUAL NANTUCKET FILM FESTIVAL
Fest to fete special guests Vera Farmiga, Paul Haggis; Mike O'Malley joins Anne Meara as hosts of Late Night Storytelling
May 26, 2011