The newest film from Seventh Art Entertainment and VideoFeedback Productions is a hilarious improv comedy feature entitled Hollywood Unscripted: A Chaos Theory. Its premiere screening takes place at 7:30PM on Monday, June 13th at the Egyptian Theater (6712 Hollywood Blvd @ Las Palmas in Hollywood, CA). This will be immediately followed by a celebration under the stars featuring complimentary food, drinks, and entertainment.
The skinny on the film: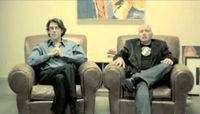 Max is a frustrated infomercial director with dreams of making a Hollywood masterpiece. His partner in crime is Sam, a producer in the adult film industry with 200 films under his belt. The only thing separating the pair from fame and fortune is the fact that they don't exactly have a script…
We follow Max and Sam as they try everything imaginable to find a story worthy of filming. Under the guise of an infomercial audition they corral in a variety of actors, polish their egos, and solicit ideas for the perfect movie. Watch Max and Sam in a hilarious battle with each other as they search in vain for the next big Hollywood Hit. Hollywood Unscripted: A Chaos Theory has been created entirely from improvised material, the style of the film perfectly complementing and commenting on its themes. This is more than just a great experiment in improv filmmaking, it's about the blues of everyday life in the city of "angels".
See IndependentFilm.com photos of the event!
USA
Year
2005
Run Time
85 minutes
Produced and Directed by
Hector Hernandez and Ramiro Montes
Cast
Scott Addison Clay, James Younan, Sharon Edrei, Alex Reznik, Heather Goldberg, Serdar Kalsin, and Greg Rohde
Music
Jason Roberts
Editor
Rufus IV
Director of Photography
Kris A Wright
Screenwriters
Ramiro Montes, Hector Hernandez, Scott Addison Clay and James Younan
Line Producer
Manny Padilla III
Casting
Christy Zamora
Official Website
www.hollywoodunscripted.com