79th Annual Academy Awards® Nominated Short Films and Features Animation
Short Films Opens February 16, 2007, at Landmark's Nuart Theatre, 11272 Santa Monica Boulevard, just west of the 405 Freeway, Los Angeles, CA 90025, (310) 281-8223. By Ester Molayeme
Published Feb 15, 2007
[an error occurred while processing this directive]
Edit page New page Hide edit links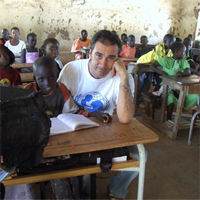 This year's Oscar® nominated Short Films and Features Animation are diverse in type and subject matter. Distinguished by their inherent extraordinary creative quality, and already the recipients of multiple awards, makes this year's selection even more difficult.
While Spain leads with two nominations in the Live Action Short Film category, United States is leading with three nominations in the Animated Short Films category.
Audiences around the country will have the opportunity to see the 10-Oscar nominations, in addition to the other 5 Oscar-eligible, Shorts, in advance of the 79th annual Academy Awards®, starting Friday, February 16, 2007, in over 40 theatres around the country.

IN THE LIVE ACTION SHORT FILMS CATEGORY ARE:
Binta and the Great Idea (Binta y la Gran Idea) / Spain – 30 minutes
Oscar nominees: Javier Fesser & Luis Manso
Narrating this short is the 7 years old, Binta, who lives along the Casamance river in Senegal. The short emphasizes the importance of education with a message of tolerance and acceptance of others. Directed by first time Academy Award nominee director Javier Fesse, and producer Luis Manso, the short was additionally produced by Manuel Garcia in collaboration with UNICEF.
Binta and the Great Idea is the recipient of numerous international film festival awards.
In French with English subtitles.
Eramos Pocos (One Too Many) / Kimuak / Spain – 16 minutes
Oscar Nominee: Borja Cobeaga
In this comedy, Joaquin, a husband and father, finds that his wife has left him. Joaquin seeks his son's help in bringing home his mother-in-law to do the housework. Beautifully portrayed with an interesting turn of events.
First time Academy Award nominee, Borja Cobeaga, is the winner of the Project competition at the Medina del Compo Film Festival in 2004 for this short.
In Spanish with English subtitles.
Helmer & Son / Denmark – 12 minutes
Oscar Nominees: Soren Pilmark & Kim Magnusson
A son is called to the rest home where his recently admitted father has locked himself inside a closet. Distinguished by a good dialogue, the short provides an insight on the relationship of father and son.
Helmer & Son marks Soren Pilmark's debut as a short film director and his first Academy Award nomination. Nordisk Film's Managing Director, Producer Kim Magnusson, was Oscar winner in the Short Film category with Election Night (1998) and three-time nominee himself for Wolfgang (1997) and Ernst & Lyset (1996).
The picture is produced by Nordisk Film Production as part of its program to develop new talent, without support from the Danish Film Institute.
The Saviour / Australian Film Television & Radio School / Australia – 19 minutes
Oscar Nominees: Peter Templeman & Stuart Parkyn
Malcolm, a Mormon evangelist falls in love with an older married woman. This comedy is realistically portrayed with an interesting twist.
Peter Templeman has won several festival awards, and is the only filmmaker to win the Slamdance Grand Jury award for Best Short Film two years consecutively: Splintered (2005), and Saviour (2006).
West Bank Story / United States – 21 minutes
Oscar Nominee Ari Sandel
An upbeat musical comedy about two competing fast food stands in the West Bank, portrayed in the fashion of West Side Story. Likable characters, nice costumes, and lively dancing make this short entertaining.
This marks the first Academy Award nomination for Ari Sandel who won the Grand prize at Stony Brook for this short.
IN THE ANIMATED SHORT FILMS CATEGORY ARE:
The Danish Poet (Den Danske Dikteren) / National Film Board of Canada / Norway & Canada – 15 minutes
Oscar Nominee: Torill Kove
Narrated by Norwegian actress and director, Liv Ullmann, this is a charming portrayal of Kasper Jørgensen, a young poet suffering of writer's block and in desperate need of inspiration. Kasper follows his psychiatrist's advice for a vacation, and travels to Norway to meet the famous writer Singrid Undset.
Starting with the creation of life, the short is about how small and unrelated factors in a chain of events become important in determining a certain outcome. A very charming and heart warming story effectively illustrated.
This is Torill Kove's second Academy Award nomination. In 1999 she was nominated for the short animated film, My Grandmother Ironed the King's Shirts (Min Bestemor Strok Kongens Skjorter.) The Danish Poet has received several film festivals awards.

Lifted / Buena Vista / United States – 5 minutes
Oscar Nominee: Gary Rydstrom
A young in-training alien student tries to abduct a sleeping farmer into the spaceship, as his increasingly weary instructor watches in disbelief.
Humorous and captivating, this short is marked by great sound and visuals. It is the latest short film from Pixar Animation Studios. Rydstrom was an Academy Award nominee for Sound Editing in Finding Nemo (2003), Minority Report (2002), and Monsters, Inc. (2001).

The Little Matchgirl / Buena Vista / United States – 7 minutes
Oscar Nominees: Roger Allers & Don Hahn
A poor young girl trying to sell matches to bystanders, finds refuge from the frosty weather in a small street corner. While lighting the matches to keep herself warm, she envisions colorful happy and better times, and intermittently returns to the black and white reality. Very detailed animation, with music accentuating the emotional tone.
The tale is based on the Hans Christian Andersen story, The Little Girl with Matchsticks.
This short is Roger Allers' first Academy Award nomination, and the second for Don Hahn previously nominated for Beauty and the Beast (1991).
The Little Matchgirl is the recipient of several International Film Festival Awards.
Maestro / Szimplafilm / Hungary – 5 minutes
Oscar Nominee: Geza M. Toth
Maestro sits in front of a dressing room mirror preparing, through the assistance of a mechanical arm, for his grand performance. Beautifully illustrated, the short maintains a certain level of suspense, with a humorous twist.
Maestro is the recipient of several international film festivals awards.
No Time for Nuts / 20th Century Fox / United States – 7:06 minutes
Oscar Nominees: Chris Renaud & Michael Thurmeier
In the Ice Age, while digging in the snow to hide his nut, Scrat discovers a time machine. He starts pressing the electronic buttons randomly causing his acorn to disappear in time. He frantically presses more buttons and finds himself traveling throughout the ages in search for his acorn.
Scrat is the same animated squirrel who debuted in Ice Age, and starred in the Oscar nominated short Gone Nutty (2002).
First time Academy Award nominees co-directors Chris Renaud and Michael Thurmeier deliver a highly entertaining action comedy featuring new CG technology.
The short is the winner of the Los Angeles Short Film Festival.
OSCAR NOMINATIONS' SHORT-LISTED FILMS, AND PART OF THE THEATRICAL OPENING ARE:
One Rat Short (United States) - 10 minutes. Directed by Alex Weil, this captivating short is about a New York City rat who follows a snack-wrap for leftovers, and finds his way into a futuristic lab. He falls in love with a charming rat, but faces some danger as well.
Packed with intricate detail and special camera work, Weil beautifully illustrates the contrast between the two worlds: the city streets' darkness, and the lab's brightness. Good music enhances the short's action. The CGI characterization, realistic portrayal, and the emotional tone are well blended. This short is the recipient of numerous awards.
The Passenger (Australia) – 7 minutes. Director Chris Jones well projects a sense of mystery and horror in this short about a bookworm who, on a dark and stormy day, boards a bus. His experience aboard proves to be horrific, nothing like the outside. Winner of the 2006 Los Angeles International Short Film Festival for Best Animation.
The Wraith of Cobble Hill (United States) – 15 minutes, in Black and White; Directed by Adam Parrish King.
Felix is a lonely and poor teenager who occasionally pilfers necessities from Mr. H's store. Going away on vacation, Mr. H asks Felix to look after his dog, Mitzie. Felix must decide whether to perpetuate the neglect of his upbringing or to reciprocate Mr. H's kindness.
This stop motion short was the recipient of several awards.
Guide Dog (United States) – 5:45 minutes; A sequel to director Bill Plympton's Guard Dog, the 2005 Oscar for Best Animated Short Film. Guide Dog is shown through the dog's perspective, responding with excitement to a Wanted Ad for assisting the blind. Notwithstanding the dog's good intentions and efforts in protecting his master, the dog reaches unforeseen results.
Gentlemen's Duel (United States) – 7 minutes; Directed by Sean McNally and Francisco Ruiz Velasco. This hilarious short with humorous dialogue is about two distinguished aristocratic gentlemen fiercely fighting for the attention of a beautiful lady. They start with a duel, but soon resort to several mechanical secret weapons, and display no sign of retreat. The illustrious funny characters were created by rigging and animation in XSI. Detailed and colorful picturesque images are a feast to the eyes.
Short Films Opens February 16, 2007, at Landmark's Nuart Theatre, 11272 Santa Monica Boulevard, just west of the 405 Freeway, Los Angeles, CA 90025, (310) 281-8223.
JVC 4K FOCUS FORUMS LAUNCH AT CINE GEAR EXPO IN JUNE
Additional Events at ProFusion 2011, DV Expo East, and Columbia College Chicago
May 26, 2011
BEN STILLER TO PRESENT ALL-STAR COMEDY ROUNDTABLE HOSTED BY SETH MEYERS, FEATURING AZIZ ANSARI AT 16TH ANNUAL NANTUCKET FILM FESTIVAL
Fest to fete special guests Vera Farmiga, Paul Haggis; Mike O'Malley joins Anne Meara as hosts of Late Night Storytelling
May 26, 2011