Director John Jost and Director Jeremy Carr. Woods Hole will offer a night of tribute for John Jost on Aug 3rd at 7pm. Jeremy Carrs short film Ice Cream Ants screens Mon at 7pm.
The Woods Hole Film Festival is a favorite of mine. Last year, this festival is where we trial launched our new streaming web video interviews and havn't looked back since. This cape cod based festival is going stong after 15 years of stewardship under Judy Laster the Festival director.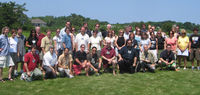 ATTENDING FILMMAKERS OF THE 2006 WOODS HOLE FILM FESTIVAL.
The Woods Hole Film Festival is known for their care in the selection of short films, documentaries, and hosting free filmmaker panels. And for their love of the attending filmmakers.
This year the festival will present a tribute to filmmaker John Jost. Jost was Born in Chicago to a military family and grew up traveling around the world on military bases. He was a stong anti-vietnam protester who helped found Chicago branch of "Newsreel". Jost was imprisoned by US Federal authorities for over two years for his refusal to cooperate with the Selective Service system. His work has been featured in countless museums, and film festivals.
John Jost is also hosting a three day production workshop at the festival which will cover some of his camera production tricks.
Some highlights of this years festival are...
- Documentary "The Refugee All Stars". I saw this amazing film at the Miami Film Festival. NOT TO BE MISSED. Documents Siera Leone refugees who form a music band to help others cope with being displaced from their homes during a brutal civil war.
- Shorts - "Ice Cream Ants". Director Jeremy Carr's surreal story of a man trapped in a waking nightmare. This film features Tom Noonan. Look up Tom Noonan on IMDB.com and you will see what an industry legend he is. Film also stars Marcus Ashley, and Jill Tracy. (Director Jeremy Carr, when we are lucky enough, works with independentfilm.com as a videographer and producer from time to time.) http://www.crutchfilms.com
- Feature Doc - "Pirate Radio" - looks cool, I'm looking forward to seeing this.
- Feature Doc - "Miles Electric: A Different Kind of Blue" - follows Mile Davis difficult transition to his electric period in the face of negative reaction from the jazz establishment.
- Feature Doc - "Walking to Werner". Filmmaker Linas Phillips made a walking pilgrimage to see and meet Werner Herzog.
- Feature Doc - "Shakespeare Beind Bars". Follows an all male Shakespear company working from jail in Kentucky.
- Feature Doc - "Neil Young: Heart of Gold". Sundance premiere. From Director Jonathan Demme.
- Feature Doc - "Who Killed the Electric Car?".
- Feature Comedy - "Kettle of Fish". Tribeca Film Festival premiere. Stars Matthew Modine.