Short film movie reviews from the cape.
The Woods Hole Film Festival has a history of showing excellent short films, and this year was no exception. Now in its fifteenth year, the Woods Hole Film Festival's shorts program offered a diverse and engaging mix of documentary, experimental, comedic, animated, and dramatic shorts from over 75 filmmakers. Yet as a whole, the "Shorts V" films, a mix of experimental and dramatic pieces, were incredible. In this series, each film centered on an individual in crisis who is forced to confront himself, another, or his past. Additionally, each of these films used creative storytelling and solid acting to entertain the audience.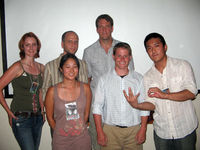 What would it be like to go back in time to confront your younger self? The first short in the line-up entitled "Empty Building Short Stories: Benny Confronts his Childhood" answers this very question. From the beautifully shot surreal opening sequence, where the viewer follows the main character Benny on his "vision quest" inside what appears to be an abandoned building, director Giovanni Sanseviero grabs his audience. Both stunning visuals and effective use of sound bring to life the reflective mood; they help transform the literal setting into a dream world where past and present collide. To give away any more of the plot would take away the viewer's emotional and psychological enjoyment that is only fully realized by the end. Based on the title, writer Yurgi Gantor can produce a veritable collection of films, similar to the "Twilight Zone" series, and I hope "Benny" is the first of many for this talented crew!

The second film in this series, entitled "Ice Cream Ants" by writer, director, editor Jeremy Carr, brings us into the neo film noir world of "Lover," and contains incredible dialogue and acting. Trapped in a nightmare world, Lover (played with an understated strength by Marcus Ashley) is compelled on a journey where his interactions with a temptress (played by the incomparable Goth femme fatal Jill Tracy) and a barstool philosopher (played by the great character actor Tom Noonan) force him to confront his own inner demons. Carr's climactic bar scene offers a veritable cinematic feast of light and sound, of comedy and drama, as we watch Lover interact with a host of unusual and engaging barflies who would definitely find Cheer's too bright and tame of a joint. As the story concludes and the viewer ponders the greater significance of the final frames, Carr's brilliant storytelling emerges and continues to resonate long after the credits roll.

"Mein Liebchen," produced and staring Cape Cod native Sarah Macaulay, brings the viewer into the world of Socialite Darcy, a place where only James Bond or Miss Marple would dare visit since mysterious occurrences abound. Guests come in but they don't come out alive. Stunning visuals and an intriguing relationship between Marta and her Mommy Dearest guardian, Marta, propel this film forward and build to an ending that is reminiscent of "Arsenic and Old Lace," although decidedly darker.

Kim Putman's "The Bitterness" deftly adds elements of crime, drama, comedy and teen angst to create a stunning film that follows Alex, a sixteen year-old girl, as she confronts her mother's imprisoned killer. Shunned by peers and faculty at school, nagged by her older sister at home, Alex 's muteness and shocking streak of white hair offer both a comfort and a cocoon of protection. Putman portrays Alex's world filled with insensitive adults and cruel peers with a satiric edge that simultaneously delights and disgusts the audience. Yet strong acting by the lead and the solid ending help to remind audiences of the cathartic power of hope and perseverance.

Winner of this year's audience award for Best Dramatic Short, Nick Childs' "The Shovel" boasts the wonderful acting of David Strathairn in the lead role of Paul Mullin. When Paul stumbles upon his neighbor's bizarre nocturnal digging, dug by the very shovel Paul lent him, Pandora's box emerges. The question for Paul becomes, should he or shouldn't he tell about the strange dealings at his neighbor's home now that they appear to be missing. Capturing Alfred Hitchcock's suspenseful style, Childs reminds us that unearthed secrets are never what they seem at first glance.
The final film in the series, "Windowbreaker," by writer/director Tze Chun, has a decidedly lighter feel on the surface than its predecessors. The wonderful humor and innocents portrayed at the outset by the two engaging Asian children, who playfully set a booby trap for an unsuspecting Windowbreaker who might rob them, belie the darker subject matter that emerges by the end of the film. Chun crafts a subtle look at race and class relations in Suburbia and forces the viewer to confront the topical issues of safety and security in the modern age. The clever and humorous ending that Chun provides was one of the most satisfying and acted as a wonderful bookend for the series.