Me and You and Everyone We Know
Miranda July's debut feature splashes down at the Los Angleles FF
Published Jun 23, 2005
[an error occurred while processing this directive]
Edit page New page Hide edit links
In honor of this remarkable film, each time I choose to write its meandering, yet meaningful, title I will paste it in this document.
If you have seen this movie, then this declaration will make perfect sense to you. If you haven't – my apologies.
Miranda July's debut feature, Me and You and Everyone We Know (I just did it), is an impressive entrance to the world of independent film. Savvy followers of art and media may recognize July's name from her varied work as a performance artist, filmmaker and sound recordist. Landing a coveted spot in the Sundance writer's workshop at her third attempt, July developed her ideas for Me and You and Everyone We Know into a unique and moving script. Working with writer-director Miguel Arteta (The Good Girl) gave her a better understanding of the practical considerations behind independent filmmaking.
"I appreciated how everyone there just kept telling me to stick to my vision," July said
"I appreciated how everyone there just kept telling me to stick to my vision," July said in a question and answer session which followed an afternoon screening at the Laemmle Sunset 5 (home base for this year's Los Angeles Film Festival [LAFF]).
Having garnered an impressive collection of awards, including the Camera D'Or at Cannes (given to the best debut) and the Special Jury Prize at Sundance, July's film was the acknowledged highlight of the first few days of this year's LAFF. Me and You and Everyone We Know screened to a packed DGA theater on Monday night, and the Tuesday afternoon showing filled every seat despite the 4:00 PM start time.
Crisp colors combine with surprisingly strong performances to give glimpses into the seemingly disconnected lives of neighbors in an apartment building. Christine Jesperson, confidently played by July, is a lonely and frustrated artist who drives around elderly people in her ElderCab. Richard Swersey (John Hawkes) is a recently separated shoe salesman whom Christine awkwardly befriends. Hawkes, who we witness setting his hand on fire with lighter fluid at the start of the film, delivers a nuanced and heartfelt performance that, for me, seemed reminiscent of a working-class Willem Defoe. Brandon Ratcliff, as Richard's seven-year-old son Robby, and Miles Thompson as his fourteen- year-old brother Peter both give strong performances as they explore technology and sexuality amidst their changing lives. Nancy (Tracy Wright) is the haughty museum curator who initially will hardly give Christine's work a look. Rounding out the characters that critics will no doubt delight in labeling "quirky," is Sylvie (Carrie Westerman), a sort of Martha Stewart parody, a woman obsessed with all thing domestic.
...critics will soon be hailing her as a female P.T. Anderson.
Me and You and Everyone We Know manages to intelligently explore the way sexuality relates to each of the characters. Listening to July during the Q&A it seemed clear that not only Christine's character, but in fact the whole cast, represent the filmmaker.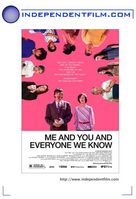 Some will be quick to compare July to Todd Solondz or Sofia Coppola. Perhaps critics will soon be hailing her as a female P.T. Anderson. For me, after a lone viewing, she deserves mention as a rising visionary in world of independent film. Whatever the critics choose to say, rest assured they'll be saying something. With a slew of awards and high-profile reviews appearing everywhere, the cat may well be out of the bag with Miranda July.
JVC 4K FOCUS FORUMS LAUNCH AT CINE GEAR EXPO IN JUNE
Additional Events at ProFusion 2011, DV Expo East, and Columbia College Chicago
May 26, 2011
BEN STILLER TO PRESENT ALL-STAR COMEDY ROUNDTABLE HOSTED BY SETH MEYERS, FEATURING AZIZ ANSARI AT 16TH ANNUAL NANTUCKET FILM FESTIVAL
Fest to fete special guests Vera Farmiga, Paul Haggis; Mike O'Malley joins Anne Meara as hosts of Late Night Storytelling
May 26, 2011