Another Big Day at Sundance
Bands, Parties...and Movies Too
Published Jan 26, 2005
[an error occurred while processing this directive]
Edit page New page Hide edit links
Another big day for Scott Addison Clay at the Sundance Film Festival. "This place is amazing." As is clearly evidenced by todays photos. Today was screening day. He planned on going to three films. Scott attended a panel on Southern Filmmakers who spoke of soaking in their roots for inspiration. Having to be in Memphis to hear the trains - hiring actors from the South and rewriting the scripts around their iambic pentameter like speech patterns, shooting around church schedules, writing in New York City to try to keep distance and perspective on the material. The independent film scene from NYC will surely remember Mr. Tim Kirkman.
My favorte picture that Scott sent in was Alan Cumming giving us a kiss!
Keep 'em coming Scott.

Steve Buscemi - Alexandra Kerry (daughter of John with same last name) - and Elvis Mitchell - world famous film critic

Southern Filmmaker panel discussion -//- Marion Lipschutz, Godfrey Cheshie - journalist from Raleigh, NC, and Tim Kirkman - director of Loggerheads

Craig Brewer - writer/director of Hustle & Flow -- Ira Sachs - director of Forty Shades of Blue -- Phil Morrison - director of Junebug -//- Southern Filmmakers Phil Morrison and Tim Kirkman

Club Suede presents the Scissor Sisters, sponsored by Queer Lounge, TLA Releasing and Volkswagen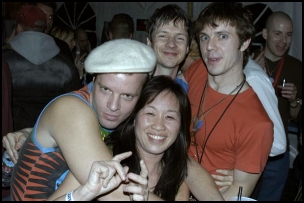 John Cameron Mitchell / Hedwig and the Angry Inch with Jake and Paddy Voom of Scissor Sisters -//- same with founder of Queer Lounge Ellen Huang

Outside Slamdance -//- Graham Sibley and Dave Gebroe - actor and writer/director of Zombie Honeymoon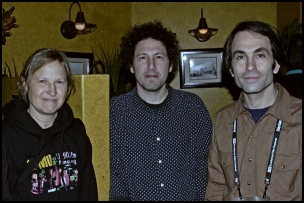 Yo La Tengo and Phil Morrison -//- Brian Ascher, Weiman Seid - reps for The Squid and the Whale and Loggerheads and Jared Moshe from The Film Sales Company

Alan Cumming from Reefer Madness and Paul Anthony of the new film Eighteen
JVC 4K FOCUS FORUMS LAUNCH AT CINE GEAR EXPO IN JUNE
Additional Events at ProFusion 2011, DV Expo East, and Columbia College Chicago
May 26, 2011
BEN STILLER TO PRESENT ALL-STAR COMEDY ROUNDTABLE HOSTED BY SETH MEYERS, FEATURING AZIZ ANSARI AT 16TH ANNUAL NANTUCKET FILM FESTIVAL
Fest to fete special guests Vera Farmiga, Paul Haggis; Mike O'Malley joins Anne Meara as hosts of Late Night Storytelling
May 26, 2011