"Irene Williams: Queen of Lincoln Road" and "Beyond the Ladies Room Door".
The Hamptons International Film Festival put together a nice collection of short films as part of their program "Long Island Shorts". The films included "Irene Williams: Queen of Lincoln Road", "Beyond the Ladies Room Door", "The Loud Ladies of South Fork", "Horseplay", and "Small Circle of Friends". Two films that I really enjoyed were "Irene Williams", and "Beyond the Ladies Room Door."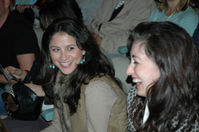 "Irene Williams" (Winner - The Audience Award for Best Short Film) by Director Eric Smith is about an eccentric elderly woman who has an "inventive sense of style". This short documentary tells us the story of Irene and her friendship with Eric. The film takes place in South Beach Miami, Florida.
It's wonderful to watch the colorful custom made clothing by Irene and the smiles she earns while walking the streets of South Beach. And she has some very fun quotes, as she narrates the entire production. "There are some people who wait all day just to see me come out of my house. I bring a little joy into their lives, I guess...You know I probably only spend about 250 dollars a year on clothes?"
The attending audience wasn't sure initially how to react to this film. At first, they seemed to be laughing at Irene. And who could blame them, she was wearing custom made hats out of toilet seat covers. But the film did have a touching end. Irene eventually passes away. The ending title card reads that..all of Irenes life she had insisted on wearing her over 200 custom made outfits and by the end of her life when she developed dimentia she insisted on wearing nothing at all. I highly recomend all to seek this short out if you can. It's a gem. You'll fall in love with Irene too.
My favorite quote, "I have so many hats. Someday, I'll have to move into a hotel room. Then I can come back to my house and visit my my hats."
Another film that stood out was "Beyond the Ladies Room Door" by Elise Bennet. The film is about women giving each other advice while in a ladies room. That's a simple way to describe a very beautifuly shot film. I would imagine that the lighting and sound issues of shooting in a bathroom would be a nightmare. But I was so impressed at how a public restroom could look so good.
The large cast of women was well chosen. There were so many good performances, solid performances. The likes of which can only be pulled from a director who knows what she is looking for from her actors.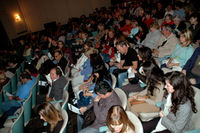 The film is a celebration of all things woman, good or bad, right or wrong. Elise even has the sense to add a transvestive into the mix. Only once does a Man (...not the transvestite) enter into the ladies room, by accident. The end of the film starts back where it begins and the big question that it starts out to solve is still unresolved. Oh well, that's life in the girls room. I always wondered what went on in there. Now I know.