First Ever Bethel Film Festival - Bethel, CT October 25-30, 2005
At the Bethel Cinema. With first year sponsorship from Stella Artois and Independence Air.
Published Oct 27, 2005
[an error occurred while processing this directive]
Edit page New page Hide edit links
"It's been a year's adventure!" - Carol Spiegel
This is the first year for the Bethel Film Festival. independentfilm.com had the pleasure of meeting a very enthusiastic staff involved with making it happen. Festival Programmer Carol Spiegel explained to me the work involved in putting it all together. independentfilm.com is happy to have been there today to see the begining of what will be a great festival.
"It's been a year's adventure!" Carol tells us. She, along with her team, have set up a diverse collection of films and filmmaker panels in the quaint New England town of Bethel, CT. It takes some effort to coordinate sponsors, festival locations, and flights.
Some of the events include the following highlights:
Cinematographer Scott Sniffen will discuss the new strides made in digital filmmaking and how HD is helping independent filmmakers in a Digital Filmmaking Workshop on Friday.
Join filmmaker and host Bobbie Lautenschlager as she explores the fascinating behind-the-scene struggles of producing a contemporary documentary on Saturday.
Join a Round Table discussion with Andrew Karpen of Focus Features on Saturday.
The Bethel Film Festival, with the help of independence air flew their filmmakers to the festival as 50 seats were provided by the airline. And of course Stella Artois, a notable festival favorite beer, was visible as well.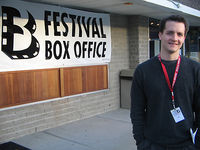 Sidney King (pictured above), the Director of "Pearl Diver" was on hand to present his film. We first met Sidney at the Woods Hole Film Festival this last summer. Sidney who is from North Carolina said, "This is my second time up here. Connecticut is great. Covered bridges...you know. And, the festival flew the filmmakers here."
Sidney was also happy to share that he now has a 35mm print of his film. "You know, at Woods Hole, "Pearl Diver" screened on a DVD. DVD is OK, but its only 480 lines of resolution. With this 35mm print I feel like, put me on your biggest screen." Sidney chose DuArt to create the print.
Pictured from the festival are Peter Howland - Public Relations, Thomas Carruthers - Director of Sponsorships and Community Relations., Carol Spiegel - Festival Programmer, Eileen Sheehan - Volunteer Coordinator, Paul Schulyer - Venue Coordinator, Jonathan Bodge - Projectionist.
JVC 4K FOCUS FORUMS LAUNCH AT CINE GEAR EXPO IN JUNE
Additional Events at ProFusion 2011, DV Expo East, and Columbia College Chicago
May 26, 2011
BEN STILLER TO PRESENT ALL-STAR COMEDY ROUNDTABLE HOSTED BY SETH MEYERS, FEATURING AZIZ ANSARI AT 16TH ANNUAL NANTUCKET FILM FESTIVAL
Fest to fete special guests Vera Farmiga, Paul Haggis; Mike O'Malley joins Anne Meara as hosts of Late Night Storytelling
May 26, 2011